Our sod is 100% Kentucky Bluegrass.
For 2022 residential pricing please call the office. Sod is sold by a roll that measures 2 feet by 5 feet for a total of 10 square feet of coverage.
We harvest our sod fresh! Pre-ordering is necessary to ensure we have stock in the yard. Orders must be placed before 2 pm for the next morning pick-up. After 2 pm then it will be ready the next afternoon. We do have stock in our yard for emergencies, but that goes fast.
When ordering sod don't forget to order starter fertilizer to stimulate roots.
Sod is perishable! Make sure your area is fully prepared and ready to lay sod the same day you receive it.
Water your sod thoroughly immediately upon completion. Please refer to our sod installation sheet for complete sod laying instructions.
Sod
Kentucky Blue Grass
Bluegrass is one of the most popular types of grass used. Its color ranges from bright green to deep blue green. It is great in high traffic areas and its rich coloring, thick coverage and high resistance to damage from impact makes it a very desirable grass.
Seed
Pails now available in two different sizes to safely store your seed away. Please call for details and pricing.
Whether you prefer to grow your own lawn or fix some bare patches, we have a seed for any application. 
Sun & Shade mix
This is the most aggressive mix that thrives in sunny or shady areas. It will spread to repair bare or thin spots. Perfect for under trees and around houses. It is a mixture of Kentucky Blue, Perennial Rye and Red Fescue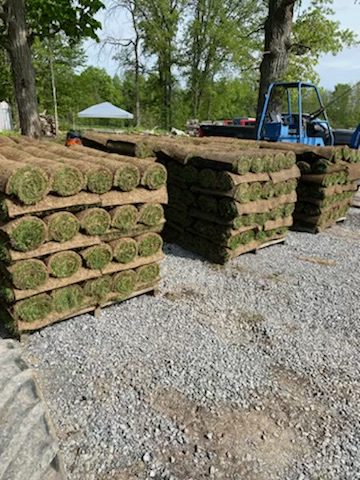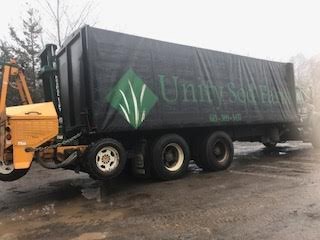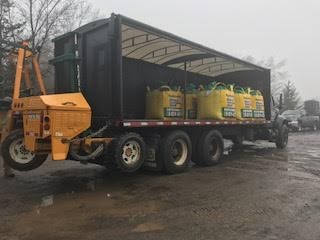 Fertilizers
Pails now available in two different sizes to safely store your fertilizer away. Please call for details and pricing.
The three numbers in fertilizer is a rating system that shows the percent of Nitrogen, Phosphorous and Potassium. The first number represents the percent of Nitrogen. Nitrogen is essential for growth, produces lush green grass blades and is easily flushed through the soil. The second number represents the percent of Phosphorous. Phosphorous stimulates root growth, accelerates the maturity and remains in the soil quite well. The last number represents the percent of Potassium. Potassium helps the plant to become hardy to resist disease and the harsh weather.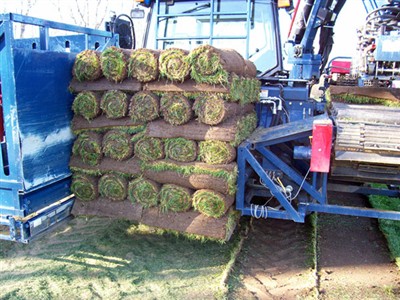 25-4-10
This is a slow release fertilizer that can be applied in early spring, summer or fall. It helps establish a good root system as well providing green up.
19-19-19
18-18-18
Gradually feeds plants to promote strong, healthy growth. 
9-27-13.7    Started Fertilizer
This fertilizer is typically used for new seeding or to prepare the soil for sod installation. It has everything needed to stimulate root growth.